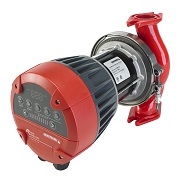 The COMPASS R featuresadvanced variable speed Design Envelope technology, new high-efficiency Armstrong iECM motors, and quadratic pressure curves, which will minimize both energy costs and long-term operating costs for homeowners.
Other features of the COMPASS R circulator include: high-efficiency dry rotor design; optimized hydraulics; a replaceable mechanical seal; bolt-for-bolt connection compatibility with a range of installed 3-piece circulators; an onboard control panel for the appropriate operations mode and flow; release latch for easy adjustment of the display orientation and repairability; and easy-to-access front-facing terminal block; a large wiring chamber and it complies with EEI<0.22.
The COMPASS R offers multiple control options and an auto mode that adjusts the speed to match flow requirements. The new Armstrong circulator is available in .25 hp to 1.5 hp models with a maximum flow rate of 225 GPM and maximum head of 65 ft.