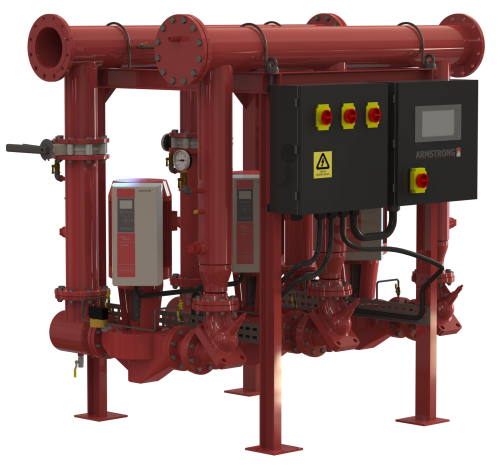 Building on the launch of the Armstrong 8000 Series of pump packages, the iFMS (Integrated Fluid Management Systems) is a complete fluid management system, pre-designed and pre-assembled by Armstrong which, it claims, can be configured to suit many applications and offer full integration of pumps with controls technology.
As the pump package is fully assembled and tested before it leaves the factory, many potential project risks are eliminated, says Armstrong. Poor system integration during installation is avoided, and the pump solution can be manufactured concurrently with other parts of the construction or refurbishment project to reduce the schedule significantly, at the same time as avoiding delays or bottle-necks that might occur on-site.
The iFMS includes Armstrong's Design Envelope variable speed demand-based pump control, which enables it to optimise energy efficiency capabilities over a wider operational range. Changes to spec are common during the design phase of a project, involving consultants and other engineers in costly re-designs.
After installation, the iFMS's wider capabilities can accommodate variations in requirements resulting from increased occupant density, alterations of building design, or changes to building use so avoiding costly HVAC refurbishment.
In addition to ensuring that the installation is compliant with 2017 legislation on pump motor efficiency, Armstrong claims that the in-built intelligence delivers energy savings of up to 70%, reducing carbon impact in excess of current legal requirements.