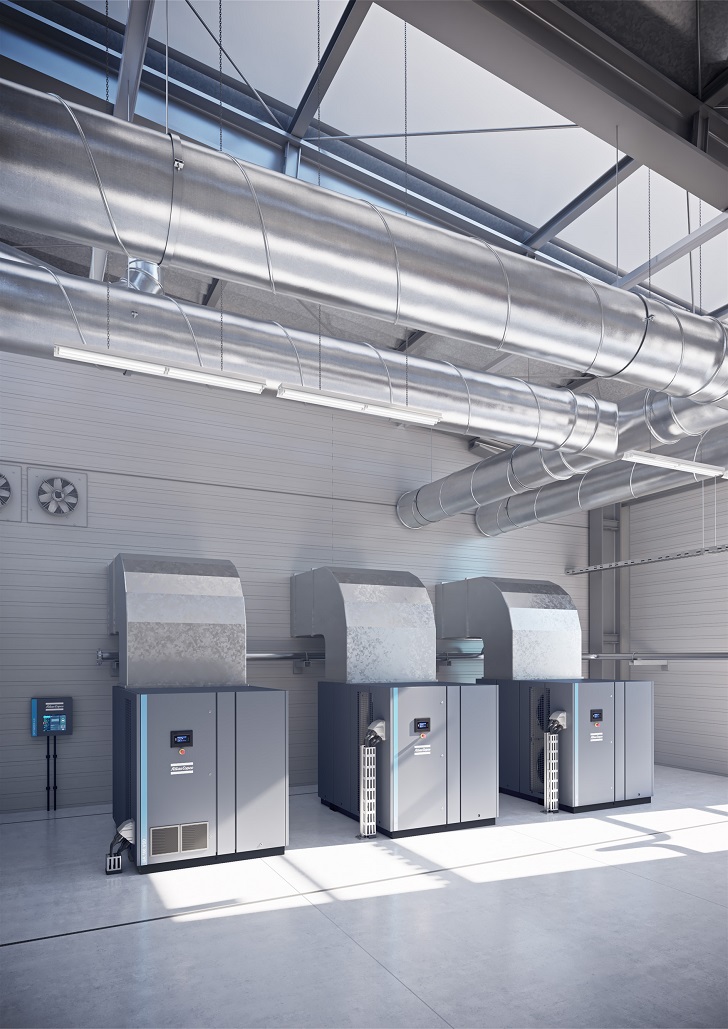 Atlas Copco has launched the new GA 90+-160 VSD+ oil-injected screw compressor range that provides reduced energy consumption, straightforward installation and simple service.
The GA 90+-160 VSD+ features state-of-the-art compression elements with smart injection technology coupled with oil-cooled IE4 and IE5 motors which the manufacturer says require no service interventions. 
The new Elektronikon® Touch controller with integrated smart algorithms further reduces energy consumption. It is available in water- and air-cooled versions, with fixed or variable speed drive and with an optional integrated dryer.
Precise control
Optimum efficiency is ensured through a drive train, ​low internal pressure drops and precise control from the Elektronikon® Touch. ​The components are designed for ease of service, with the most commonly serviceable parts grouped together.
The patented portal design enables full access to all components when more extensive maintenance is required. This aim is to achieve a service time that is half that of comparable designs.
The GA 90-160 VSD+ range features the new Optimizer 4.0 central controller, which replaces the company's ES16 central controller. It enables a compressed air system to be optimised through compressors, dryers, filters, controllers, energy recovery systems, generators, air receivers, coolers and boosters. Through a user interface, the end-user can view the performance and energy consumption of each machine as well as of the whole system.
Monitoring
Optimizer 4.0 can also be monitored through a customer's PC via LAN, a SCADA system or Atlas Copco's SMARTLINK remote data monitoring system. It is fully Industry 4.0 compatible, enabling the digital integration of the air compressed system with other intelligent networked devices to improve equipment performance, enhance predictive maintenance and further increase energy efficiency.
With its GA 90-160 VSD+ range Atlas Copco provides customers with a 5-year warranty, ensuring smooth operation in the harshest environments.