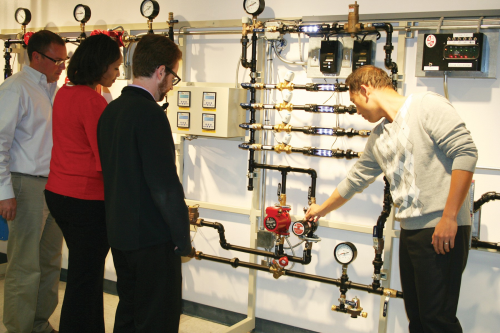 Bell & Gossett's commitment to education continues with virtual curriculum that is available to a global audience through its Online Little Red Schoolhouse (OLRSH).
System design is the focus of upcoming training sessions at LRSH, where engineers, contractors and installers can receive hands-on education in the latest HVAC system design, from plumbing systems to chilled water and steam systems for commercial building applications.
For LRSH's Q1 schedule and continuing education credit information, seminar descriptions, representative information and enrollment, visit: www.bellgossett.com/training-education.
Industry needs
In-person courses are designed to meet industry credentialing requirements and bridge the gap between theoretical knowledge of HVAC systems and real-world applications. In addition to system design, participants also learn about proper installation and maintenance of hydronic and steam systems. Students can choose from three courses to expand their knowledge of pump fundamentals, piping systems and waterside economization. These courses are intended to complement the more in-depth, hands-on experience students receive during the in-person courses, and all of the courses are eligible for IACET CEUs.