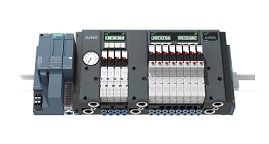 Bürkert will present the valve island system at SPS IPC Drives taking place in Nuremberg, Germany, from 22 to 24 November 2016. The reason behind the strategic partnership between Bürkert and Siemens is maximum system availability and process reliability for pneumatic controllers.
The new valve island was developed for use in the food & beverage, pharmaceuticals and cosmetics industries, as well as in water treatment systems. To save space it can be mounted in the control cabinet together with different Siemens modules for controlling up to 64 valve functions. The valves are directly connected to the Siemens I/O system.
The Type 8647 AirLINE SP valve island features pressure sensors and an LCD, which displays detailed status information such as the position of the pilot and process valves directly at the device – both by means of icons and plain text. This enables fast detection and elimination of faults. The use of ring topology and the Media Redundancy Protocol (MRP) ensures continued operation of the system in the event that a communication client fails.
Bürkert will exhibit at SPS IPC Drives in Hall 3A, Booth 161.