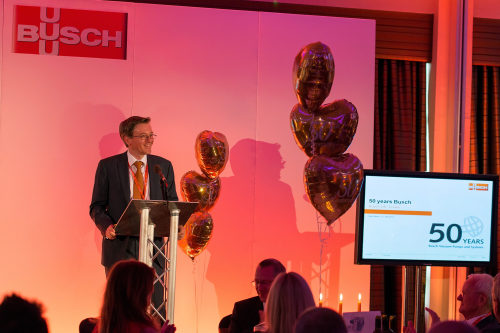 Busch is celebrating its 50th anniversary this year with a series of customer focused events at facilities all around the globe.
The UK celebrations took place in July, centring around the company's Crewe manufacturing facility. Members of the Busch Family, including Dr Karl Busch with his wife Frau Ayhan Busch and the UK management team were joined by more than 120 customers, key suppliers and the Deputy Mayor of Cheshire East, as well as former Busch employees for a VIP reception and tour. This was followed by a dinner at the prestigious Crewe Hall Hotel with the first woman of English football and leading business icon Karren Brady as special guest speaker.
A daytime reception and tour also took place the following day at the company's Telford site where employees participated in an informal gathering with the Busch Family.
Ian Graves, managing director for Busch (UK) Limited, said: "We wanted to mark the 50th anniversary of Busch with the people who have made us so successful over the years – our customers. We've also enjoyed sharing the occasion with some of our former employees who have also played a key part in our success."