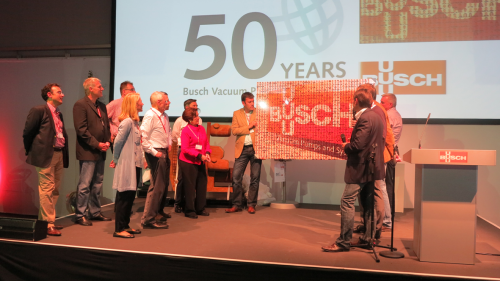 Celebrations have taken place in Germany to mark Busch's 50 years of developing vacuum technology.       
Since 1963, Busch has grown from a small company into an international group with more than 2,600 employees. The company celebrated where Busch began, in Maulburg, Germany.
All the general managers from the 57 Busch companies located in 39 countries attended the celebrations, accompanied by their customers and business partners. 
And to mark the fiftieth anniversary of the company, the 'Busch Award' was presented for the first time. The prize goes to companies that harness modern vacuum technology and apply this to innovative processes.
The first prize winner was GEA Food Solutions GmbH, located in Düsseldorf. The company succeeded Union Verpackungsges. mbH, which was founded in 1957 in Kempten and it was the Union company that developed a new type of packaging for fresh foods in the early 1960s - vacuum packaging. 
Registered World Pumps members should click here http://www.worldpumps.com/view/34619/busch-celebrates-50-years-of-vacuum-technology/ to read of Busch's celebrations.