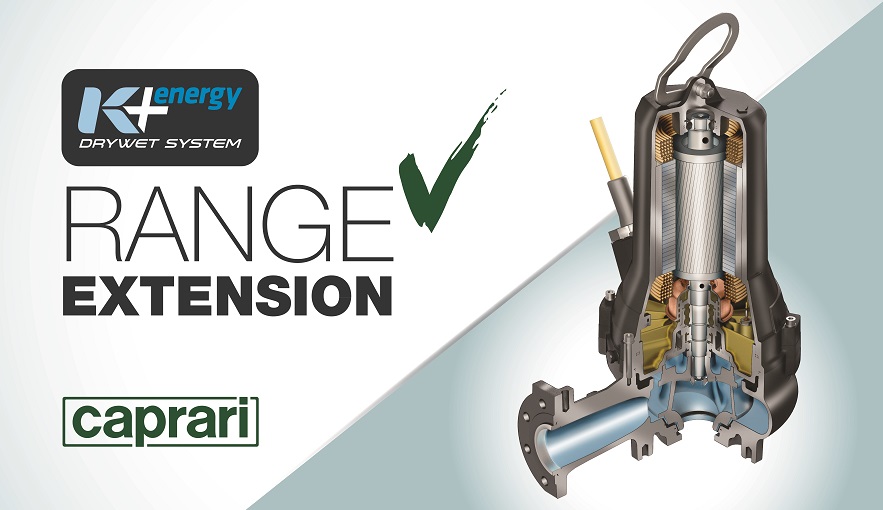 CAPRARI has expanded the new generation K+ Energy range, an electric pump aimed at wastewater management. The K+ Energy range now has 33 new models of 4- and 6-pole electric pumps.
The pump requires no additional maintenance and does not waste energy. Thanks to motors in efficiency class comparable to IE3, as defined in Regulation 640/2009 specific for surface motors, the K+ Energy electric pumps are designed to ensure a high performance.
The electric pump features class H electrical insulation for maximum thermal shock resistance. High-performance materials and new, even 'cooler' motors are included for maximum operation reliability in the hardest applications.
Special cable The special cable with double sheath, normally used for ATEX versions, is also used as standard on K+Energy electric pumps, improving both mechanical and thermal overload resistance. Another feature of these electric pumps is the conductivity probe in the oil chamber, also supplied as standard in the ATEX version (patented).
The K+ Energy pumps are provided with a double seal. In case of water infiltration, the alarm signal is sent immediately so maintenance can be carried out promptly.
Safe disconnection A special connector, available as standard on all K+ Energy models, is designed for the quick and safe disconnection of the electric pump, without the need to disconnect the cable from power panel.
The upper handle, made of precision-cast stainless steel, is widely sized; this eases handling and facilitates the submersed machine recovery in case of need.
Finally, the electric pump is versatile when it comes to installation thanks to the flanged intake ducts that allow both vertical and horizontal installation, even in dry chambers.