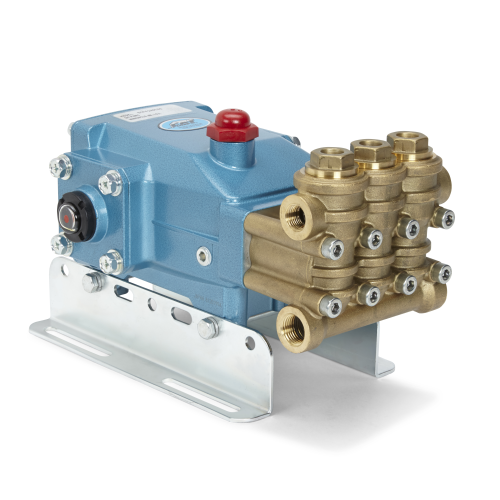 The pressure range has been extended from 3,500 to 4,000 psi (245 to 275 bar). The compact model 5CP4120 is rated 17 litres/min at 1,750 rpm and can be used in both belt and direct drive applications. To satisfy the demanding requirements of the applications for which this pump has been designed, and to provide a long, low maintenance working life, the valves and seats are made from 316 Stainless Steel and have been hardened and polished for ultimate performance.
High and low pressure seals are fully lubricated and cooled by the pumped liquid. Combined with Cat Pumps special concentric, high density polished ceramic plungers, this feature greatly increases pump life. When the time eventually comes for seal replacement, this is quick since the 5CP range features 'press in style' seal cases.
Checking oil level
Both side and rear oil gauge sight-glasses are incorporated into the design of the crankcase to make it easier to check the oil level wherever the pump is mounted. Maintenance is further simplified through the use of 'stacked valves' necessitating only three plugs to access the pump valves for inspection and servicing.
For diesel and petrol engine applications, this pump can also be supplied complete with Cat Pumps robust speed-reduction helical gearbox, to fit directly to the chosen engine with a 1 in parallel shaft and SAE mounting face.