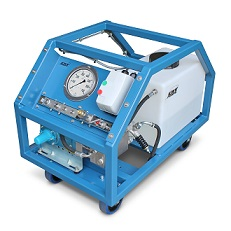 Hydrostatic pressure testing reveals potential weaknesses in pressure vessels, pipes, hoses, umbilicals, valves, mechanical seals, heat exchangers, pressure gauges and tanks. The process typically involves pressurising the component under test with water to levels that far exceed the designed operating parameters.
The HTU is a compact, mobile high pressure system that uses the Cat Pumps triplex plunger pumps and offers operating pressures of up to 700 bar. The Cat Pumps HTU removes the need for equipment manufacturers and maintenance/repair specialists to design and build their own hydrostatic pressure testing systems.
Assembled on a purpose-built mobile frame, the HTU incorporates pump, gear motor, water tank, four outlet manifolds with varying ports, pressure relief, pressure release, and regulating valves along with a calibrated pressure gauge. The 50-litre water tank feeds both the pump and pressure distribution manifold.