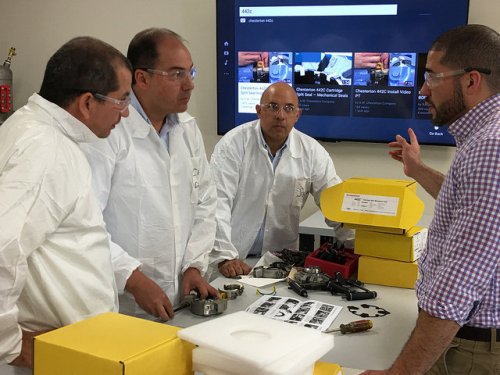 Chesterton has added a new industrial training centre, a state-of-the-art valve emissions testing facility, and an industrial equipment service location to support its New England-based customers at the Groveland site.
The new industrial equipment training facility provides training for plant engineers and plant maintenance staff, with practical hands-on equipment laboratories for pumps, valves and hydraulic-pneumatic equipment as well as coatings application and lubrication best practices. Recent classes provided training to groups from South American, Japan and China.
"We're delivering training expertise in areas where process plants need it most – best practices in sealing equipment reliability and safely, reducing valve methane emissions, protecting equipment in challenging environments, and learning how to better reduce energy and water use in equipment operation," explained Brian O'Donnell, Chesterton president and CEO. "We train not only how to seal equipment effectively, but also what works best for specific and challenging applications."
Chesterton has also opened a new state-of-the art testing facility with the ability to test valves up to 12" diameter in a range of media, including methane. Testing capabilities now include API624, ISO15848-1, as well as TaLuft. This new facility enables Chesterton to develop tailored solutions for customers' critical valve applications.
The Groveland expansion also includes a New England Service Center to provide mechanical seals, pump and cylinders repairs as well as a range of other capabilities focused on industrial equipment repair, upgrade and installation.