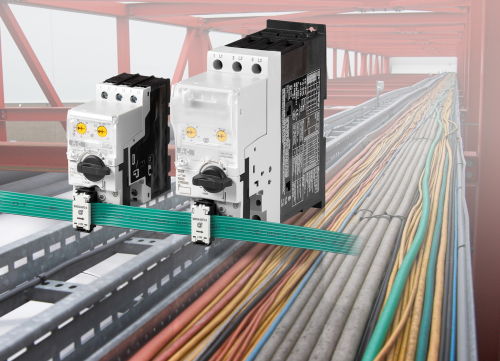 Eaton's SmartWire-DT connection and communication technology eliminates the need for conventional control panel wiring as well as making it easy to collect valuable real time information from components such as variable speed drives and circuit breakers.
With SmartWire-DT, ready-terminated plug-in connecting links replace conventional control panel wiring. Not only does this greatly reduce wiring time and costs, it also saves space in the control panel, virtually eliminates the risk of wiring errors, and makes it very easy and inexpensive to modify and extend existing panels.
A further key benefit is that SmartWire-DT provides access to operational and diagnostic information, such as motor running currents and breaker trip status, without the need for additional wiring or connections. This to assists in the implementation of systems that provide advance warning of trip and other fault conditions, and that log data as an aid to rapid faultfinding.
Drive monitoring
Eaton's latest PKE motor protection circuit breakers have facilities for drive monitoring, and PowerXL variable speed drives, which are compatible with the SmartWire-DT system. KE motor protection circuit breakers support drive monitoring – motor current and trip status, for example, are accessible in real time via a SmartWire-DT connection, without using use any extra components.
The protection characteristics of PKE breakers can be set to suit almost any type of motor and users can also optionally configure the breakers as motor protection relays. When this is done, the breaker de-energises the motor contactor when a trip condition occurs, but does not physically trip. This makes possible automatic restarting without the need for manual resetting.
PowerXL variable speed drives are suited for pump applications. They are available with ratings up to 250 kW. PowerXL DA1 series drives support not only standard induction motors,but also permanent magnet motors that are designed to meet the IE4 standard. In addition, they incorporate an energy optimiser that automatically reduces the motor voltage with light loads.