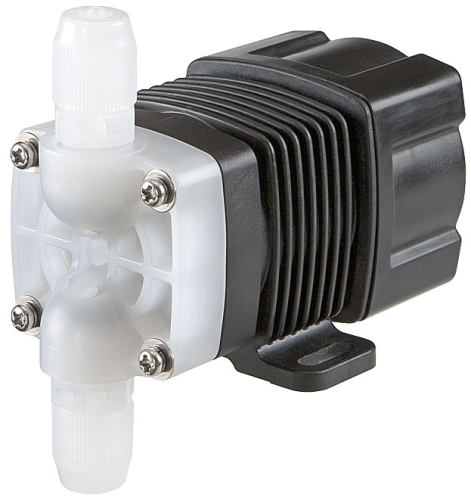 The HRP compact DC driven metering pump features digitally controlled high resolution injection capability from 0 – 720 SPM with an 0.055 cc/stroke offering consistent low volume injection capability.  The HRP pump is designed to be  maintenance-free with four external control options and is available in 12V or 24V DC configurations.  
The HRP Series offers four control options including pulsed input, 4-20 mA speed control, 1-5V DC speed control and stop/start for maximum integration flexibility into OEM systems.  HRP pumps are available with 12V or 24V DC drives with flows ranging from 0 ml/min to 38 ml/m and pressures to 0.2 Mpa.
The HRP pump is made of PVDF with FKM gaskets, alumina ceramic valves and PTFE diaphragm which help improve chemical resistance and fluid handling. Applications for the HRP pump include disinfectant injection for food and beverage industries, detergent injection for cleaning systems and in any OEM system where chemical injection is required.