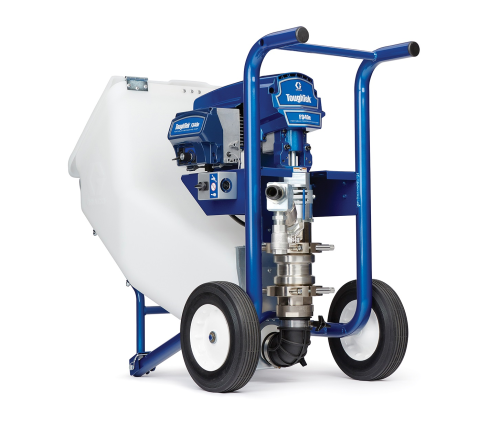 Compact and portable, ToughTek Pumps use piston pump technology capable of applying cementitious fireproofing materials through long hose lengths and delivering them with a smooth, steady flow.
"Because of their durability and high-pressure piston pump design, ToughTek pumps allow fireproofing contractors to spend more time spraying and less time moving equipment around the job site," says John Lihwa, Graco product manager.
"In addition, our compact design and small footprint make it easy to spray in tight areas." Graco reports that ToughTek Pumps are easy to set up, easy to use and require minimal maintenance. They offer variable speed controls so a contractor can dial in the exact flow rate needed, from low to high volume output. Utilizing proprietary Graco technologies, the piston pumps stand up to abrasive fireproofing materials to minimize maintenance downtime and reduce wear part expenses. ToughTek Fireproofing Pumps are available in two models:
the compact ToughTek F340e Portable Fireproofing Pump plugs into a standard wall outlet, fits in an elevator, supports hose lengths of more than 100 ft, comes with a 20-gallon hopper, and offers outputs up to 20 bags per hour;
the mid-size ToughTek F680e operates on 230V power, supports hose lengths of more than 300 ft, comes with a 30-gallon hopper, and offers output volumes up to 30 bags per hour.