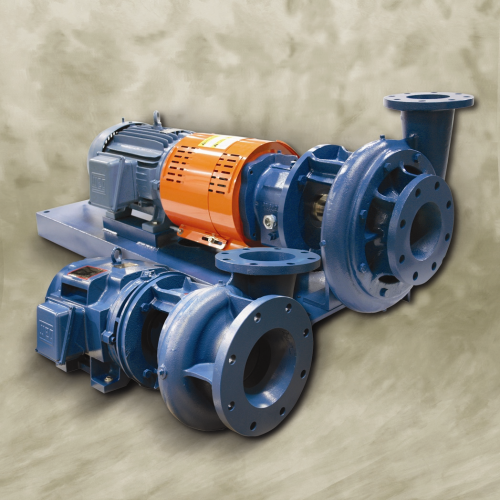 The new E, F&G Series centrifugal pumps from Griswold have enlarged pump suction and discharge nozzles, which cuts down on friction losses and results in fewer fittings. Griswold says that this makes the E, F&G Series ideal for use in commercial swimming pools, water parks, fountains, aquariums and many more water-pumping applications. Griswold's F Series pumps are also certified by NSF® to ANSI/NSF standard 50 for swimming pools-circulation system components.
According to Griswold, other key components designed for the E, F&G Series include a bronze shaft sleeve, which is renewable and insulates the shaft from abrasion. In addition, there are renewable bronze wearing rings that precision-made and pressed into the casing and/or adaptor as required and are easily replaced in the field. Mechanical shaft seals made from carbon, ceramic, Buna and stainless steel components drastically reduce maintenance and adjustment issues. Finally, there is a single-piece enclosed impeller that is made of cast bronze and keyed to the shaft. It is precision-balanced with the diameter cut for the specific condition point.
Griswold says that another virtue of the E, F&G Series include its versatility, with capacities up to 3,000 gpm, heads to 310 feet (94.5 m), and a broad range of sizes and configuration options. E, F&G pumps are equipped with either close-coupled NEMA electric motors or they are frame-mounted with coupling to electric motors, engines, steam turbines or belt drives. The company adds that the E, F&G's 360-degree mounting capabilities extend installation options, as do its close-coupled configurations that can be mounted vertically when space is at a premium. Easy maintenance is ensured by the pump's back-pullout design, which permits removal of the entire pump assembly. All E, F&G models are flanged in accordance with ANSI B 16.1 for 125-psi pumping applications.