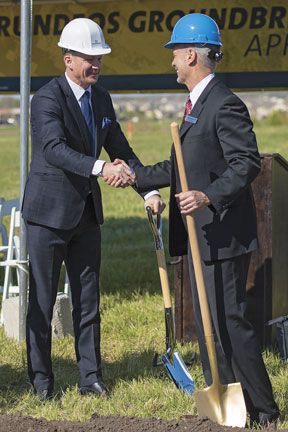 The new LEED-certified design facility will replace Grundfos's current Kansas City offices in Olathe, 8 miles southwest of Lenexa.
The new offices, which are expected to be completed during autumn 2017, will continue to house the company's customer service, technical training, marketing, business development and other support functions for the Americas region and USA Sales.
Grundfos USA Sales' headquarters have been located in Olathe since 2001. The Lenexa site was purchased in 2006 in anticipation of a long-term relationship with the community.
Grundfos employs 1300 people in the United States, with further operations, sales and service facilities in Allentown, Pennsylvania; Fresno, California; Brookshire, Texas; Indianapolis, Indiana; and Aurora, Illinois.
"Throughout its history, Grundfos has been proud to become ingrained in the communities we call home. We are excited to move forward in our journey by putting down roots in Lenexa," said Terry Teach, executive VP of sales for Domestic Buildings for Grundfos. "As Grundfos continues to grow within the industry, Lenexa offers us the space and resources we need to thrive, and we look forward to seeing our new home take shape."