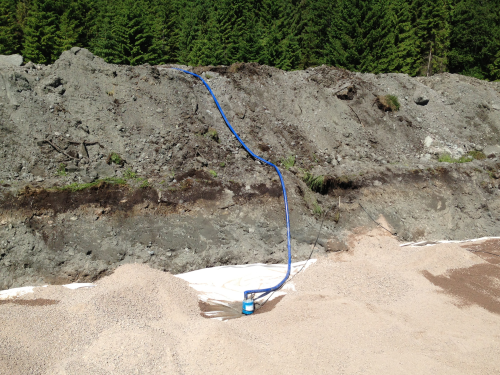 The €807 million South-West link project includes the construction of underground transmission lines to connect Nässjö's power grid in Sweden to Norway's stem power grid in Oslo.
The project spans across almost 250km from Barkeryd substation near Nässjö to Hurva in Sweden, following old power lines through remote villages and forests. Because of the landscape and large rainfall in the region, some areas are prone to floods and have a high water-retention rate.
"Svenska Kraftnät & Skanska have to work around these challenging conditions," explains Magnus Malmerin, manager at Tsurumi-Intec Sweden. "Some water is visible and very close to the surface but even if the ground appears dry, lots of water is trapped underneath. When you start digging, water floods the area, causing a potential safety hazard. Safety precautions are crucial because the transmission cable will eventually be carrying about 1400 MW of electricity."
To solve this problem, pipes are placed in the ground every 30-50 meters along the cable trench and Tsurumi pumps are placed inside the pipes to lower the water table before cables are installed. Additional pumps are also placed directly in the trench where required.
There are three different models of Tsurumi pumps being used on the project: the LB800, KTV2-22 and KTV3-37.
The LB800 can pump 310 litres of water a minute and is a compact light-weight pump, easily transported from one area to the next. "These pumps are very easy to move around," says Malmerin. "If you have a large amount of water to get rid of, two or four pumps can be moved quickly to the same place, which will remove the liquid quickly and efficiently."
Tsurumi's heavy-duty KTV pumps have a larger capacity, featuring a compact and light-weight design. They are suitable for rain water, ground water and sand carrying water and are wear resistant. The KTV pumps are placed in the sand and soil trench on site to pump out ground water.
The 650 Tsurumi pumps have been supplied by Skanska Maskin AB – the rental division of the Skanska Corp in Sweden.
"These projects don't come around very often," says Malmerin. "Using a hundred pumps is quite common but I have never experienced 650 being used on one project before. We are very proud to be involved in this project, there might be a high-volume of pumps on site but the customer is very happy and hasn't experienced any problems and we have been able to provide large quantities of pumps very quickly."