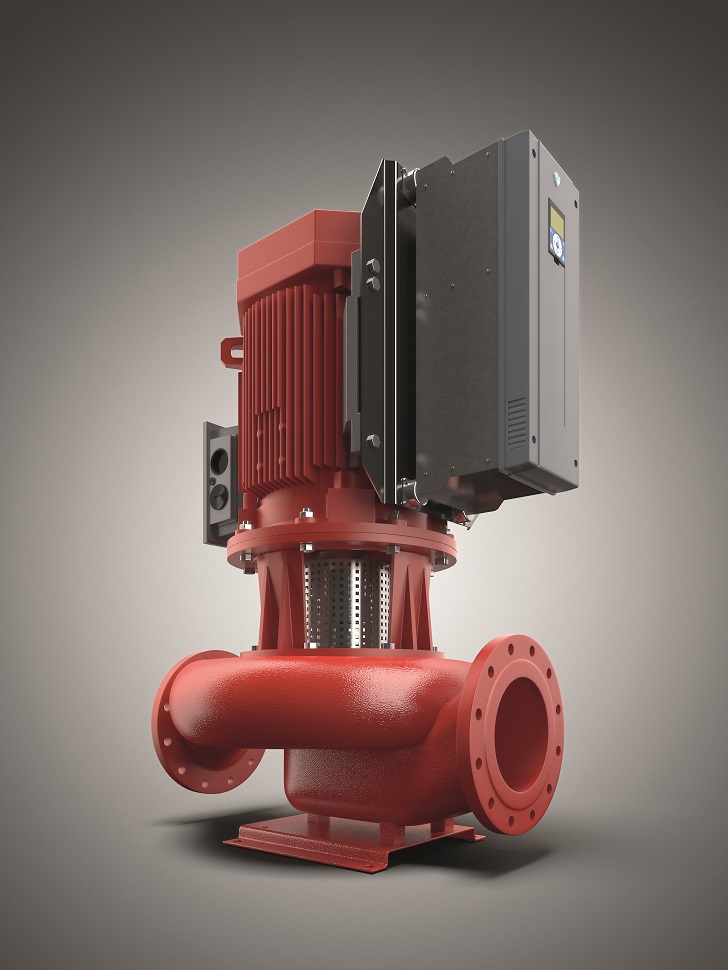 Headquartered in Turenki, Finland Kolmeks Ltd manufactures pumps and motors which are typically used in heating and cooling systems, in pressure boosting and, to an increasing extent, also in the process industry.
The pumps are single impeller centrifugal pumps, directly coupled with a Kolmeks' electrical motor, typically used in heating and cooling systems, in clean-water (and other clean liquids) circulating, pressure-boosting and similar applications. Thanks to the use of many different materials and sealing solutions, the pumps are increasingly used in process industry applications.
First wave
In 2014, Kolmeks launched the first wave of VS-series integrated variable speed (VS) pumps. VACON® 20 Cold Plate was integrated with Kolmeks' updated family of in-line pumps in a power range from 0.75 kW to 7.5 kW. Kolmeks also started a software development project to get the necessary multipump drive features for the small end of VS pumps.
In the Vacon 20 Cold Plate, heat losses are conducted through an aluminum plate, which the users can mount on their own cooling element or profile and utilize the electric motor's own cooling to also cool the drive system.
Using AC drives to control pumps and pump systems allows the output, pressure and flow in the water piping system to be adjusted in relation to actual needs. This reduces energy consumption and stress on the electrical network and mechanical parts.
Vacon 20 Cold Plate is used for both commercial and residential water treatment services. To ensure a smooth start and precise differential pressure control based on two transmitter feedback signals, the Vacon 20 Cold Plate AC drive is one of the key components in Kolmeks' in-line pump family.
Fluent collaboration
Explains Markku Hännikäinen, electrical and electronics R&D manager, Kolmeks, "We enjoyed fluent collaboration between Vacon's team, Kolmeks' R&D department and sub-suppliers. A teamwork of Chinese, Italian and Finnish experts ensured a successful result. The opportunity to modify Vacon 20 Cold Plate application software encouraged us to introduce new, enhanced and facelifted single-phase drive pumps also with Vacon 20 Cold Plate." 
"The similar user interface as well as I/O terminology convinced us to use Vacon 100 FLOW for our 11–55 kW integrated VS pumps which were introduced to market during 2017. Danfoss Drive's attitude has made it possible for Kolmeks to take also IoT options into account already in the design phase of new products," Mr Hännikäinen continued.
The pumps can also be equipped with separate or integrated frequency converters (AC drives) to adjust speed as required. In-house design and manufacturing facilitates tailoring of the pumps according to customer needs.