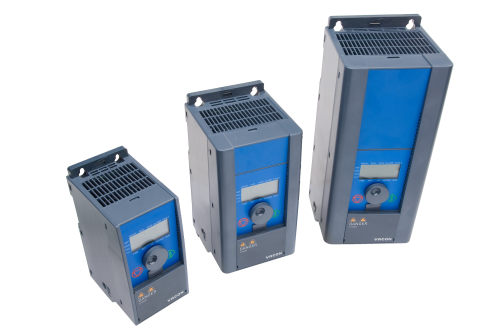 The micro AC drives are available with power ratings from 0.25 to 2.2 kW for use with single-phase supplies and 0.37 to 5.5 kW for use with three-phase supplies. The micro AC drives from Vacon range in size from 66 x 157 x 98 mm to 100 x 262 x 109 mm depending on rating and are suitable for screw fixing or for mounting on DIN rail.
All micro AC drives in the Vacon range offer PI control and basic application macros for fan, pumps and conveyors. All versions of the micro AC drives can be optionally supplied with internally mounted EMC filters which comply with the Category C2 requirements of EN 61800-3.
Vacon 10 micro AC drives feature fully programmable I/O, comprising three digital inputs, one analogue input and one relay output for standard models. Versions are also available with six digital inputs, two analogue inputs, one digital output and two relay outputs. An RS485/Modbus interface is a standard feature on all models.