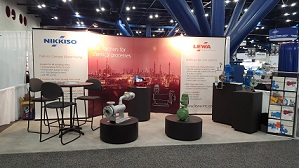 The show will take place from 12 – 14 September and the centrifugal pumps being exhibited are intended for conveying hazardous, toxic and supercritical fluids in the chemical industry as well as the oil and gas industry.
In addition, there will be a demo version of the Lewa Ecoflow diaphragm metering pump and an Ecosmart where visitors can follow along with the pump process live.
The Nikkiso centrifugal canned motor pumps are used to for transfer and circulation tasks in the chemical industry and meet the specifications of the API 685 standard. They operate at pressures up to 40 bar, providing flow rates up to 1,200 m³/h.
Lewa Ecoflow metering pumps are equipped with a sandwich diaphragm made of PTFE and are driven by a motor with a frequency inverter. They are ideal for high discharge pressures and offer a reproducible metering accuracy of ±1%.