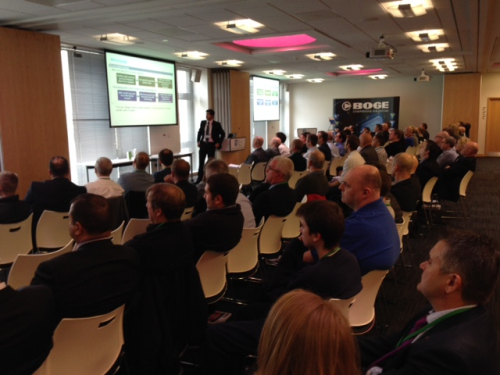 The Motor Driven Systems Conference visited The Advanced Manufacturing Research Centre in Rotherham on Wednesday 29th October in the first of two vendor hosted events aimed at helping industry professionals generate huge financial savings from motor driven apparatus.
Co-hosted by WEG Electric Motors and ERIKS with support from Drives & Controls, BOGE Compressors, Flaktwoods and ND Metering Solutions, presentations from BPMA, BSI GAMBICA and IHS Research, among many others, contributed to the debate on how to reduce energy and make these potential savings a reality.
Understanding key issues
Marek Lukaszczyk, European Marketing Manager at WEG commented, "We were delighted to have co-hosted this important event and to have played our part in helping UK industry better understand the key issues surrounding improved industrial energy efficiency. The quality of both speakers and papers was exceptionally high and the reaction from delegates was excellent".
The day was opened by Andy Evans, Technical Executive at GAMBICA, who gave a presentation entitled 'Saving a little can cost you a lot – why lifetime cost is so much more important than lifetime cost'.
This opening paper effectively set the theme for the event, with the remaining papers all addressing why and how a 'systems engineering' approach to energy efficiency can save huge amounts of money over a relatively short period of time. The fact that energy prices are only ever heading in one direction, coupled with added concerns over uninterrupted supply for UK manufacturing, the issues addressed by this day long conference seem evermore appropriate.
Comprehensive programme of papers
Steve Schofield, Director of the British Pump Manufacturers' Association (BPMA), who offered an appraisal of Europe's position on Energy Audits, said after the event, "The comprehensive programme of papers, and the focused nature of the topics covered, enabled all attendees to take away a great deal of acutely relevant information. I feel sure this will help them and their colleagues to implement good strategies for improved energy efficiency across their respective operations".
Richard Parkin, Director at ERIKS, said of the day, "ERIKS were proud to have co-hosted the event as it offered a perfect opportunity for key decision makers to obtain the latest information on energy efficiency, discuss best practice and understand what products, solutions and services are available to enable them to create sustainable and productive businesses. It was the best MDS yet, and given the importance of the core subject matter, we look forward to supporting similar events in 2015."
The next MDS event will be held in Coventry on the 4 December, at Schneider Electric's facility on the University of Warwick Science Park, UK.