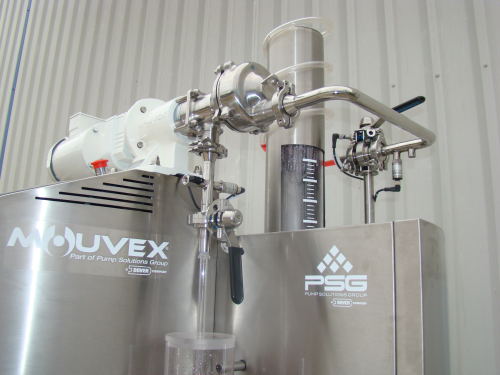 At the show Mouvex will demonstrate how its eccentric disc oump technologies can help food-and-beverage manufacturers and packagers optimize product recovery and, in turn, 'profit recovery.' Product recovery is a term that refers to the high utilization (or yield) of product or ingredient substantially eliminating waste that would otherwise remain in suction or discharge process lines during changeovers or at the end of production runs.
"Product loss is often treated as nothing more than an acceptable 'cost of doing business' in food-and-beverage manufacture," said Wallace Wittkoff, Global Director of the Hygienic Segment for PSG. "Flushing away costly raw materials or disposing of saleable finished products that may remain in transfer lines at the end of production runs can annually take thousands of dollars off the manufacturer's bottom line. However, our Mouvex Eccentric Disc Pumps, when used in product-recovery applications, have been proven to recover product from transfer lines at typical rates from 70% to 80% or more. This can equate to literally tens of thousands of dollars of savings per pump."
To help show food-and-beverage manufacturers how much product-recovery savings can be realized by switching to eccentric disc pumps, Mouvex has developed a worksheet that calculates product-recovery savings when specific operating characteristics are presented.