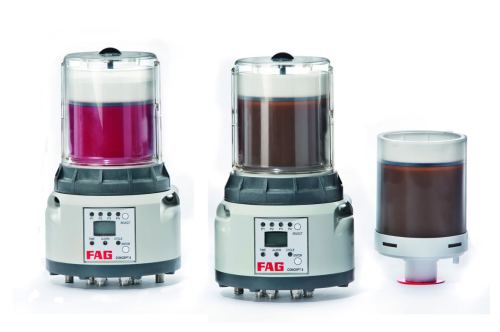 FAG CONCEPT8 is a lubrication system for rolling bearings designed to ensure a constant, optimum supply of grease to the bearings without the need for manual intervention, particularly if machines are located in difficult-to-access areas or are deemed as critical to the production process.
The system provides up to eight separate lubrication points for dispensing precisely metered quantities of lubricant to rolling bearings. The system can dispense lubricant to rolling bearings in a wide range of industrial applications, including pumps, fans, compressors, gearboxes, electric motors, machine tools, wind turbines, as well as production lines in food and beverage processing plants.
Fag Concept 8 has been fitted with four pairs of lubrication points (eight in total), which are controlled by four individual dispensing pumps. Schaeffler claims that unlike other multi-point lubricators on the market, this system enables users to individually control each pump in order to optimise cycle times and volumes of dispensed lubricant (lubricant can also be dispensed in a 'pulsed operation').
This means the system can be adjusted to meet up to four different bearing sizes, each with varying lubrication requirements – an industry first.
The system is also equipped with heated outlets, which ensure reliable dispensing intervals, even at low temperatures when the grease is more viscous. In addition, as the lubricant is stored in a transparent replaceable cartridge, users can easily check the lubricant level, enabling easier fill-level control. The system is easy-to-use with an integrated LCD user display that provides clear navigation menus and two keypad control buttons for set up and adjustment..