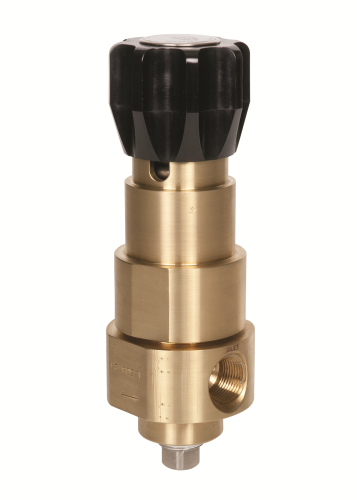 "The new B7 valve came about largely as a result of requests for an equivalent to our P7 High-Flow/High Sensitivity Pressure Reducing Regulator, which we introduced in 2005," says Clint Rogers, General Manager, Valve Division, Cashco, Inc. "So we were able to go back and look at the P7 unit and utilize as many components as possible, in effect, giving our customers a back pressure valve with the durability and ease of operation with which they were already comfortable and confident."
High pressure application
According to Rogers, the new B7 can be used in any high-pressure application that requires back pressure relief to avoid setting off a safety relief valve. Examples include hyperbaric chambers, air compressors, pressurized ballast tanks, high pressure testing, life support applications, manifold systems, tube trailers, gas transfer stations, etc.
"This allows customers to control the pressure within those types of systems without losing more of the process than necessary when a safety valve would open and drain the tank," Rogers explains. "The B7 valve, in reality, becomes a more economical relief solution."
Like the P7 valve, the B7 back pressure relief valve is available in ½- and 3/4 in sizes with a brass or stainless steel body. The Model B7, which is designed to control inlet set point pressure levels between 10-1150 psig (.69-79.3 Barg), is also available in angle, globe and flow-thru configurations with end connection options of NPT, 300 lb. flanges, 600 lb. flanges and 1500 lb. flanges.