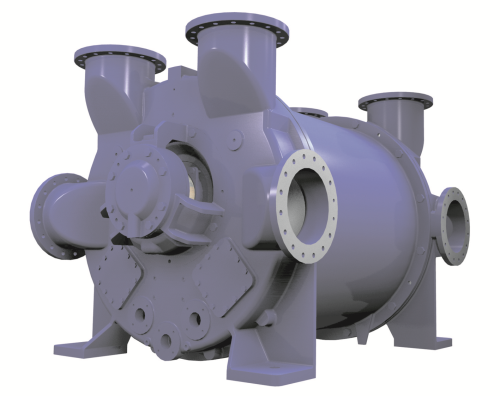 Building on the proven NASH 2BE4 series, the NASH 2BE5's patented gas scavenger provides increased vacuum capacity and, as a result, a significant improvement in efficiency. Compared to the basic 2BE4 model, water consumption in the once-through mode has been reduced by up to 25%. Improved fluid self-recirculation eliminates the need for booster pumps, which in turn creates greater energy savings.
The NASH 2BE5 series can be used both as a vacuum pump and a compressor. For vacuum generation, suction capacities are between 2500 and 32000 m³/h, reaching down to 100 mbar abs of vacuum.
When used as a compressor, the NASH 2BE5 series achieves between 3000 and 9500 m³/h with compression of up to 2.5 bar abs.
The outer dimensions, footprint and port sizes of the NASH 2BE5 series are identical to the basic NASH 2BE4 model, making it simple to upgrade to a new, more efficient machine at any time.
The NASH 2BE5 is available in ductile iron and stainless steel, or in a combination of the two materials. In ductile iron, the body is always supplied with a polyisoprene lining. The pump series can be used in a wide range of applications across many sectors of industry, including chemical process engineering, filtration applications, the pulp and paper industry, power plants and refineries.