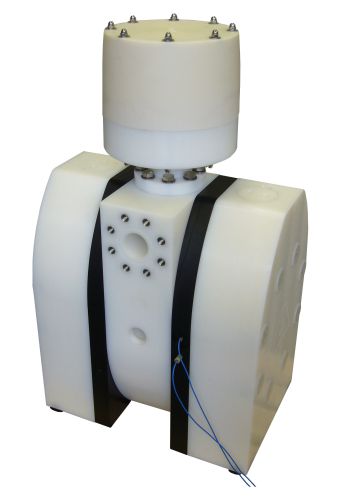 Almatec, the manufacturer of air-operated double-diaphragm (AODD) pumps specialising in plastic pumps with solid housings, has announced the launch of the E80 model in its range of E-Series AODD Pumps. With the addition of the E80, Almatec's E-Series pumps are now available in seven optional sizes and achieve maximum capacities that range from 4 gpm (0.9 m³/h) to 210 gpm (48 m³/h).
The E80 is equipped with a nominal connection diameter of DN80 (3") and a maximum capacity of 210 gpm (48 m³/h). The E80 is currently the largest model in the E-Series family of solid-body plastic AODD pumps from Almatec. Like others in the E-Series of pumps, the E80 is made ??in solid construction, and has dry-run and self-priming capabilities. They also have no rotating parts and no shaft seals for improved performance and lower maintenance. The massive plastic body of the E80 meets the required mass for an oscillating working pump and the necessary security requirements for different conveying tasks.
The E80 is constructed with abrasion-resistant polyethylene, and is ideal for use in abrasive and difficult-to-handle applications. The E80 is designed with integrated flanged connections to ensure high stability and leakage protection. The E80 is available with an optional barrier chamber system whereby the diaphragm is replaced by a tandem arrangement of two diaphragms with an intervening barrier chamber of conductive polyethylene that is filled with a neutral liquid. Level sensors monitor complete filling of the chambers.
Should the product side diaphragm rupture, the fluid enters only into the lock chamber or the neutral barrier. Sensors register the change in conductivity of the barrier fluid and report it to the alarm or pump shutdown device. Another option for the E80 is the pulsation dampener. It is flanged on the top of the pump and allows the pump to obtain a virtually uniform flow.