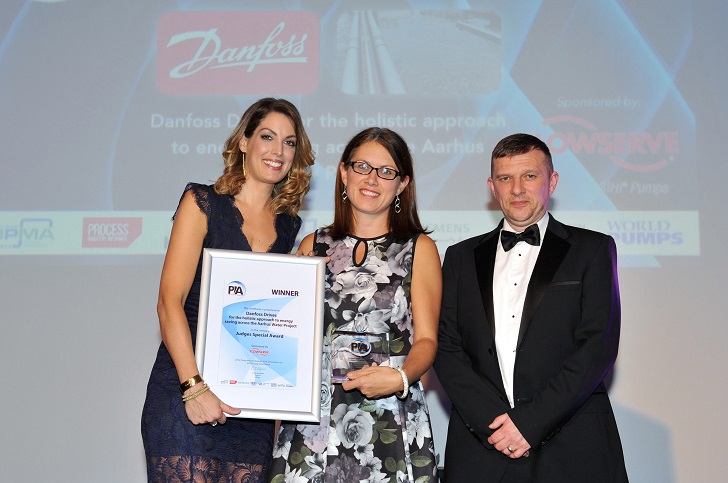 After winning 'Environmental Contribution of the Year', one of the Pump Industry Awards' most coveted categories and being a finalist in two others, Danfoss Drives also won the Judges' 'Special Award'.
It is the first time this award has been given and it was created to reflect Danfoss' outstanding achievements and diversity of projects entered for consideration.
Holistic approach
The three applications Danfoss made to the award categories demonstrated a holistic approach to energy saving and the judges felt that the company deserved special recognition. The Judges' Special Award was created last minute to reflect this acknowledgement and show support for the extraordinary work Danfoss does.
Andrew Castle, event director and chair of the judging panel commented, "The judges were unanimous in their appreciation and recognition of the holistic approach to energy saving across the entire project, as evidenced by the three separate nominations, which is why they decided to award this additional accolade."
Aarhus water project
Danfoss took home the accolade for 'Environmental Contribution of the Year'for its contribution to the Aarhus water project and was also a finalist in the 'Technical Innovation of the Year – Projects', again for Aarhus, and 'Supplier of the Year' categories earlier in the night and, just as everyone was expecting the event to wrap up, the new category was announced.
"Winning an award and being a finalist in two categories in one night is a great achievement for us", said Sara Bernard UK marketing and business support at Danfoss. "We were all incredibly happy with the result, but what surprised us the most was the fact that we also won the Judges' Special Award. This means so much to us as a team because it acknowledges the level of expertise and dedication we put into our energy efficient products and services."