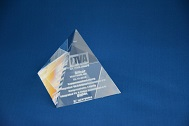 The ITVA presented its awards as part of the international design exhibition, the Designer's Open in Leipzig, Germany. The silver award was given to the new gamma/ X animation films from ProMinent.
All the entries submitted in a total of 12 categories were appraised by an independent jury made up of experts in marketing, communication and the media and film industry. The ITVA pyramid is a mark of technical and conceptual excellence in the area of moving pictures.
The new gamma/ X video clips from ProMinent won the jury over in all areas. Lakritz.Film, the agency specialising in audiovisual projects, translated the complex technology of the solenoid driven metering pump into a high-quality visual animation and clear explanations.