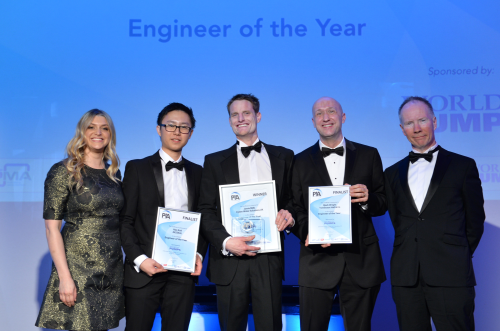 The 2017 Pump Industry Awards focused on the manufacture and supply, including innovation and achievement, energy saving, engineering excellence, customer care and employee motivation.
All the nominations were considered by a judging panel on 1 February this year at the headquarters of the British Pump Manufacturers' Association. The chosen finalists were announced and votes invited from the public.
At a gala dinner on 23 March, six companies and two individuals were awarded certificates and trophies.
Technical Innovation – Products
Sponsored by: Process Industry Informer Winner: Sundyne HMD Kontro VapourView
Technical Innovation – Projects
Sponsored by: KSB Winner: AODD Pump used in foam concrete application, Triark Pumps
Environmental Contribution of the Year
Sponsored by: SPP Pumps Winner: Siemens installation of variable speed drives on Marchwood power station main cooling water pumps
Distributor of the Year
Sponsored by: WEG UK Winner: Tomlinson Hall & Co
Manufacturer of the Year
Sponsored by: Siemens Winner: Neptuno Pumps
Supplier of the Year
Sponsored by: Tomlinson Hall & Co Winner: ABB
Engineer of the Year
Sponsored by: World Pumps Winner: Jamie Mills, Xylem Water Solutions
Lifetime Achievement Award
Sponsored by: BPMA Winner: Brian Huxley