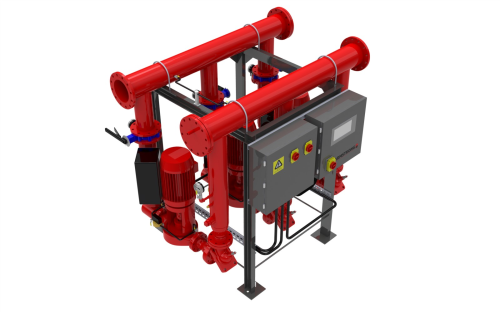 The 8000 Series pumping module includes integrated pumps, pipework, controls and motive power manufactured off-site. This helps avoid poor system integration during installation, and the pump solution can be manufactured concurrently with other parts of the construction or refurbishment project to reduce the schedule.
The series can be configured to suit a wide range of applications, with a choice of four levels of control, from pump-only to fully controlled pumping systems.
The 8001 Series FMS (Fluid Management System) is a traditional-style fixed speed packaged pump set without controls or variable speed drives and the 8002 Series IVS (Intelligent Variable Speed) is a variable speed packaged pump set incorporating  Armstrong's IVS pumps with motor mounted inverters that can be controlled.
The 8003 Series IVS (Intelligent Variable Speed Sensorless) also incorporates Armstrong IVS variable speed pumps with motor mounted inverters. It utilises sensorless control and automatically matches the pump speed to the building load without BMS control. This option is suitable for duty/standby applications (up to 90kW) and includes a set mounted control panel that shares the load of the duty pump and relays alarms to the BMS. It is suitable for single zone control.
Finally, the 8004 Series IPS (Integrated Pumping System) is capable of controlling up to 18 zones and includes Armstrong's set mounted IPS (Integrated Pumping System) which is fully wired and pre-commissioned to the pumps within the set. The system is capable of operating outside of BMS control and can communicate to the BMS via Modbus as standard. Lonworks, BACnet and other protocols are also available on request.