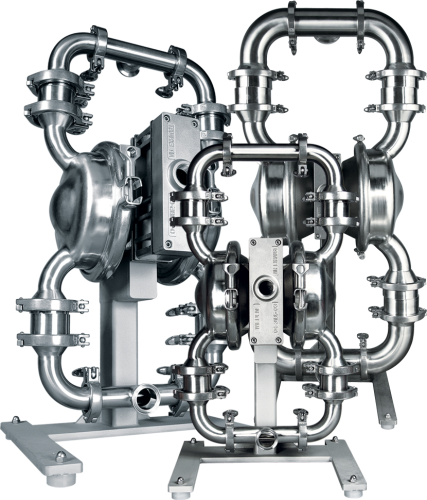 The pumps will be promoted in booth 2253 at Interphex 2017, which takes place from March 21-23 in New York, NY, USA. The event is aimed at the pharmaceutical, biotechnology, and medical device development and manufacturing industries.
Saniflo HS pumps feature product containment and a straight flow-through design that enables clean-in-place (CIP) capability, critical to hygienic-process success. Saniflo HS pumps also offer self-priming, dry-run and deadhead capabilities, and are suited for handling shear-sensitive products such as cell structures and delicate polymers.
Stainless steel
Featuring pharmaceutical-grade elastomers, the pumps are available in 316L stainless steel, polished to required RA standards and are one of the few North American made AODD pumps that are validated by both 3-A in the area of CIP and EHEDG cleaning protocol. Saniflo HS pumps also exceed all CE, ATEX, USP Class VI, 1935/2004/EC and FDA CFR 21.177 requirements.
The four sizes availble are from 25 mm (1 in) to 76 mm (3 in) and feature flow rates from 144 lpm to 874 lpm (38 gpm and 231 gpm). Diaphragm options include the Wilden Pure-Fuse diaphragm with a one-piece design that eliminates product-trap areas between the out piston and diaphragm that can harbor bacteria.