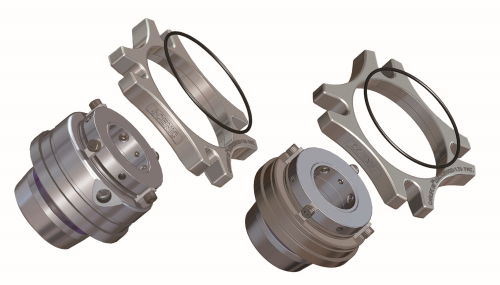 Inheriting the features of the CARLIFE 99® single cartridge mechanical seal, CARLIFE 99SS is primarily designed for slurry, highly solid contents and highly viscous medium environments.
CARLIFE 99SS features Line-On-Line equal diameter sealing faces, which are engineered to make it difficult for slurry or abrasive particles to reach the sealing faces during operation. The sealing faces maintain a close contact with each other all the time to ensure the shaft rotates with zero net deflection. The result is a more durable and reliable product without three-body abrasion. Moreover, the new design incorporates a stationary sealing ring that is beveled backward to increase the contact surface with the process fluid so as to facilitate removal of the frictional heat generated between sealing faces.
Best suited for big/taper bore sealing chamber equipment, the CARLIFE 99SS series no longer needs a flushing hole inside the seal or any transportation of process fluid to flush the seal face. This not only effectively prevents flushing liquid from diluting or interacting with process media, but also eliminates the need for seal flushing connection and piping facilities.
In addition, inside the seal chamber is a shroud, which protects springs from getting corroded by process fluid leakage or vapor, stuck by crystallized solids, or upset by foreign particles.
The seal also has a separable gland which changes the assembly concept of cartridge seal by partitioning a conventional single gland into inner (fixed) and outer (mobile) glands. The inner gland serves as a compact cartridge seal, which houses all the seal components and is the only seal part exposed to the process fluid. The feature allows for the use of economical materials for the outer gland, and a quick repair simply by replacing the inner gland, helping end users reduce system downtime and operating costs.