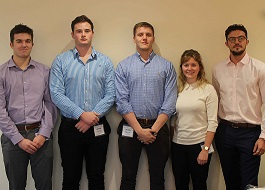 Selwood selected the new recruits after seeing more than 35 graduates from science, technical, engineering and maths disciplines at a graduate recruitment day in London.
The new recruits have spent time at Selwood's head office in Eastleigh, Hampshire, and in pump rental branches in the UK. They will now undertake an ISM accredited sales training programme.
The graduate recruitment drive comes as Selwood makes a multi-million pound investment in pump rental. Selwood says that it will be investing further in its teams after opening new pump rental branches serving the south west England and north east Scotland.
"This has been a positive experience for us all – our teams have been really energised by the new recruits coming into the business," said Lynette Blackwell, director of Human Resources at Selwood. "This process has also encouraged us to develop the sales training for our existing teams, so we're further investing in our training programme to increase the benefits to staff and customers alike."