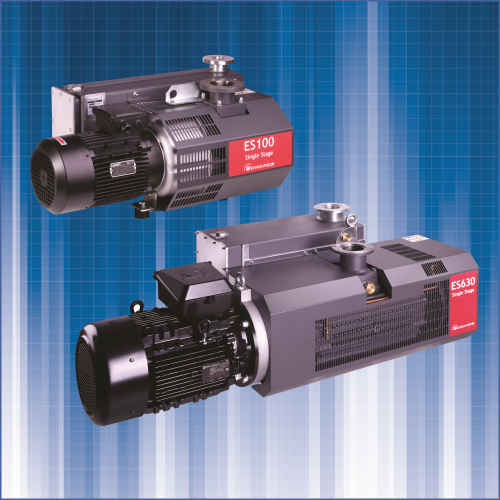 Edwards' new range of single stage oil sealed rotary vane pumps is being publicised as a flexible vacuum solution providing highly stable vacuum performance.  Due to the optimised oil return system, the company says, there are none of the pressure fluctuations that are often seen in single stage pumps improving product quality and giving consistent process results.
Edwards is introducing its new ES range of pumps to the US market at the SVC (Society of Vacuum Coaters) 57th Annual Technical Conference May 3 – 8, 2014 in Chicago, USA. The pump mechanism on the new ES pump has been refined to produce a better quality of vacuum.  The pumping speed is maintained even at lower pressure, extending the operating pressure range.
 Edwards' ES pump has been developed to run cooler and have a longer oil lifetime than other comparable oil sealed vacuum pumps, bringing a low cost of ownership. The in-built oil mist filter ensures minimal oil emission, making the ES environmentally friendly. The ES also has the added benefit of running more quietly than most comparable single stage rotary vane pumps.
The new pump is designed to be used in a wide range of industrial and scientific applications, including coating applications, and those that require good water vapour handling. The ES can be used individually or with mechanical booster pumps to increase both performance and ultimate vacuum.
Bob Campbell, Market Sector Manager at Edwards, commented, "We are proud to be introducing our newest pump at SVC; the ES range is suitable for a wide range of industrial applications and coupled with our robust EH mechanical boosters, provides customized solutions to a variety of processes."SVC TechCon is the largest exhibition dedicated to vacuum coating technologies, and includes both Educational and Technical Programs.  Edwards' expert Jeff Luby is presenting a technical paper "Computational modeling techniques for vacuum systems and pumps" which will discuss a unique computational modeling technique for vacuum systems which incorporates any number of primary and secondary pumps and other pertinent elements.
A video explaining the benefits of Edwards' unique modelling software, and how it can provide customers with a competitive edge by advising on the correct system for their needs, is available.
Like this story and want to read others similar to it? Go here tinyurl.com/mzqxupj  to receive unrestricted Free Access to the content on World Pumps.  Joining will only take a few minutes, and you will gain access to the digital edition of the title's magazine as well as a package of special features, news and much more.