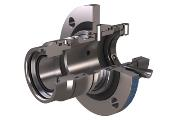 With the recent acquisition of Tartek Oy, a specialist in development, manufacture, repair and maintenance of high quality mechanical seals, Sulzer has been able to further expand its technology portfolio and now provides in-house designed and manufactured seals for its process pumps.
The new Sulzer TB1, TB1F and TB2 ready-fitted mechanical seals for different process pump types are designed for the seal chamber of the standard gland packing casing cover and for the standard shaft without extra shaft sleeve. The seals have been designed so that any pressure variations or drop-outs of the pumped liquid do not open the seal faces.
Reliable operation
In order to ensure reliable operation, the ready-fitted seals are constructed as an organic part of certain centrifugal pump types without any extra components. They are mainly designed for industrial applications in the pulp and paper and general industries, but can also be used in the power generation and other markets.
The simple and robust design enables fast and easy installation and maintenance. Therefore, the ready-fitted mechanical seals offers a more economical solution than cartridge mechanical seals.