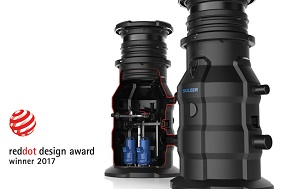 One of thousands of products in the competition, the Synconta is a brand-new approach to industrial design for Sulzer, achieved in cooperation with the Irish design and innovation consultancy, Dolmen.
The Synconta is a wastewater lifting station designed for low-pressure sewage systems. Its purpose is to collect wastewater from residential or commercial applications and discharge it to a standard gravity system.
The unit is designed to accept either a single- or double-pump assembly. can be preassembled outside the tank and then easily lowered into the chamber once the tank is seated into the ground. There is no need for the installation engineer to climb inside, which provides huge safety benefits.
The Synconta has a stronger tank design than its predecessor, and it can be provided with an optional concrete lid for heavy loads. For applications that go beyond the standard installation depth, an extension piece for customizable height can be used. The new lifting stations type ABS Synconta 901B and 902B were introduced to the market in May 2016.