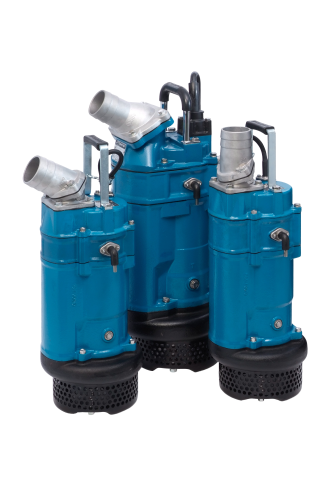 Tsurumi launched its new drainage KTZE pump with level sensor at the German trade show, Nordbau, in September.
The new drainage KTZE pump is based on Tsurumi's existing KTZ range, which has already been tested and proven by several heavy-duty applications. The new model is available in seven variants from 1.5 to 3.7 KW of motor power at 400 volts. The pump, depending on the model 430-1440 l / min, creates a maximum lifting head of 36.5 metres. The discharge of the pump can be adjusted either horizontally or vertically, which helps to keep the pump standing in the direction of discharge.
Control with a difference In contrast to other models on the market, the automatic pump can be left unattended saving substantial operating costs. The pump starts when the sensor identifies the correct water level and stops as soon as the water level drops below a certain point. The user can manually adjust the level required in order to maintain the amount of water desired.
Water contaminated with granular solids up to 8.5mm in diameter will be easily pumped away using the KTZE. Its housing is made of cast iron and is resilient as the semi-open vortex impeller is made of chromium cast iron and the double mechanical seal, in the oil chamber, is made of ultra-hard silicon carbide. The pump is designed for longevity and can run all day – protected by a continuously cooled and lubricated mechanical seal by patented oil-lifter and a thermal overload switch.