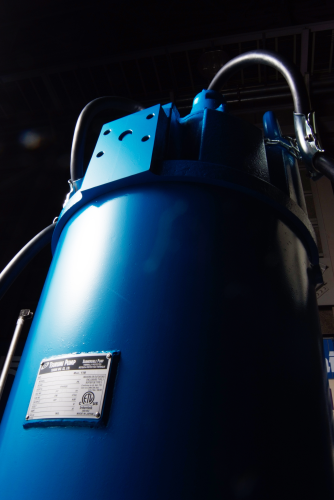 The LH4110W high-pressure pump has a height of over 1.8 m and a net weight of around 1.3 tonnes. The LH pumps water with particles up to 8 mm in diameter vertically upwards, reaching up to 216 m.
"This is the strongest performing pump of its kind offered by Tsurumi Europe," emphasises product manager Stefan Himmelsbach. Tsurumi says its record holder is designed for water storage in very deep construction pits and is also used wherever large horizontal distances have to be covered. "One pump is now enough in places where several used to be needed," adds Himmelsbach.
In order to achieve this performance level, Tsurumi has equipped the star delta 400 V unit with a 110 KW electric motor. The pump casing is made of GG20 grey cast iron and the two closed non-clog impellers, arranged behind each other, are made of chromium cast iron. The double inside mechanical seal on the shaft in the oil tan is made of hard silicon carbide.
Tsurumi says thanks to the water jacket around the motor housing, the motor is sufficiently cooled in semi-immersed operation. The centred flange reduces the diameter of the pump so that it can also be used in slotted bridge filters, for example. It generally runs in any position.
Visit Tsurumi's website for more information.
The new LH4110W from Tsurumi pumps wastewater vertically, reaching up to 216 m (photo: Tsurumi).