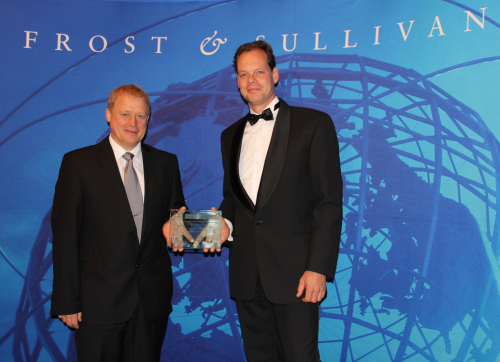 Verder International received the 2012 European Air-Operated Diaphragm Pumps Product Differentiation Excellence Award from Frost & Sullivan at the Guoman Cumberland Hotel, London.
Frost & Sullivan Best Practices Awards recognises companies in a variety of regional and global markets for demonstrating outstanding achievement and superior performance. Verder was honoured for showcasing growth, innovation and leadership. The Verderair say that its Pure AODD pump was chosen by Frost & Sullivan's expert industry analysts after rigorous performance test against a selection of equivalent competitor products.
Analysts of Frost & Sullivan firmly believe Verderair Pure air-operated double diaphragm pump offers several superior benefits to end users such as the solid and robust design. The deviation from a conventional pump design results in increased efficiency, higher flow rate and reduced downtime. Verdair say the reliability of the pump is enhanced due to the incorporation of the double walled barrier chambers, which offer protection even when the diaphragm is ruptured. Verdair report that the pump design is also praised for the ease of maintenance as the valves are accessible without the need to disassemble the pump during servicing. These benefits,  say Verdair,  make its Pure air-operated double diaphragm pump suitable for applications in solar, chemical processing and ceramic industries.