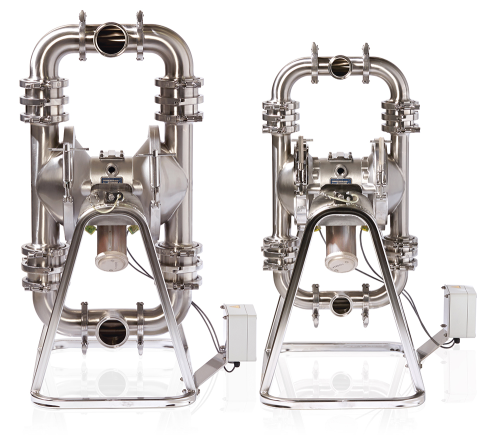 The Hi-Clean range completes the Verderair brand – There is an air diaphragm pumping solution for any process or application including hygienic conditions, abrasive and solid-laden industrial applications and for harsh chemicals and environments.
The HI-CLEAN pumps are constructed from SS316 stainless steel polished to RA 3,2 μm. The centre section is also available in aluminium and PP for where a full SS316 is not required. The range also features a piston-type pump for direct insertion into IBCs, barrels and other containers for hygienic transfer.
Efficient operation
At the heart of the pump is the air valve. The Verderair valves reduces the total amount of air needed to move a set volume of fluid. The operating volume and vibration is also reduced, contributing to a better working environment.
The pump range is CIP and SIP compatible and is designed to be disassembled with a simple clamp arrangement. The flanges are available in tri-clamp or DIN 11851 configurations for crevice-free connection. The air valve is encapsulated which allows the pump to be jet washed. The design allows the strip, inspection and service in less than 20 minutes.
Fluids & solids
The Verderair Hi-Clean range can deliver a flow rate of up to 568L/min and up to 20,000cPs. The positive displacement of the moving diaphragms is a gentle, low-shear pumping principle, which preserves the often delicate structure of the fluid.
Models are available with ball vales or flapper types to permit solids of up to 63.5mm. Suitable fluids include viscous pasta sauces and pastes, milk and dairy, beers, wines and juices as well as personal care products such as creams, gels and shampoo.
The working principle of an air diaphragm pump allows the flow path to run dry without damage and is true self-priming. Selected models also feature over-moulded diaphragms and leak detection sensors for 3A compliance for minimal disruption to the process line.