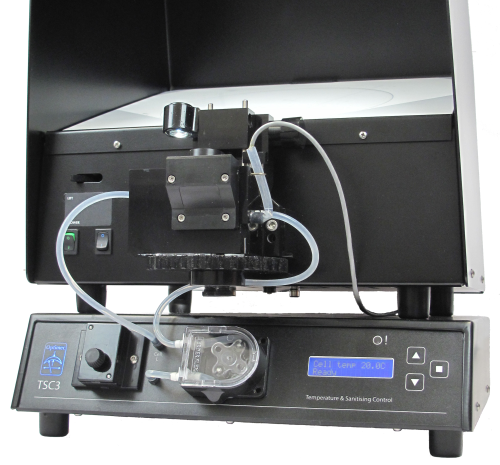 Optimec, a manufacturer of soft contact lens measurement instrumentation, required an accurate and effective method of pumping a closed circuit of filtered and temperature controlled saline solution, through a soft contact lens measurement instrument wet cell, for their TC20i and TSC3 control units.
After a detailed consultation with Optimec, a Verderflex M045 OEM pump was selected. This recommendation was made for the following reasons; • Verderflex M045 OEM pump's quick and easy tube change ensured simplicity for routine maintenance procedures, allowing for a hygienic and sterile process with minimal downtime. • The option to have both 12 V & 110 V drives ensured a readily available solution meet global demand. • The compatibility with external controls allowed Optimec to implement the M045 Pump head within their unit for accurate and effective voltage control, achieving the exact flow required. • The small footprint of the M045 fitted perfectly within the unit for a cost effective and compact solution.
The Verderflex M045 OEM pump head totally contains the saline solution within the tube, eliminating the risk of contamination. This makes the Verderflex peristaltic pump the perfect choice for aseptic applications in which hygiene and sterility are critical to the process. A leading independent soft lens manufacturer in the UK has become the most recent lab to give the Optimec TSC3 (which incorporates UV sanitisation) a resounding vote of approval. The company reported the maintenance of a sanitised system at 'zero' microbiological counts and described tubing change as 'very easy'.