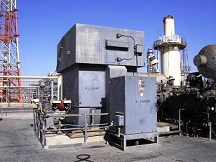 The PICC will take place from 28 February to 1 March and the company will discuss how best practice in the installation and maintenance of synchronous motors, which are commonly used in oil and gas applications, is key to enhancing the durability of essential electrical equipment.
The company says that ensuring that synchronous motors work reliably is important to minimize costly downtime in oil and gas operations. A properly installed and maintained synchronous motor can provide over 20 years of dependable service, but poor practices will shorten this time dramatically, said Sean Orchuk, electric machinery engineer at WEG, who will deliver the paper at the PCIC.
At the PCIC, WEG will highlight how installing and maintaining motors correctly is relatively inexpensive and requires only a small commitment in terms of manpower and equipment. The company will explain how the most common installation and maintenance practices, including basic alignment and protection methods as well as cleaning and electrical testing,  should be performed to ensure maximum life and minimise equipment failure.