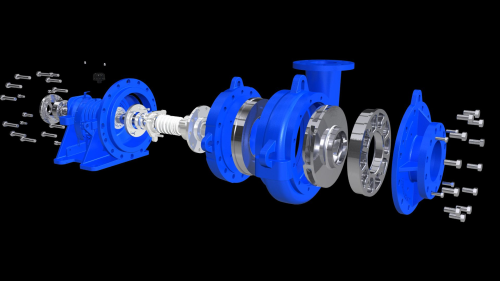 Weir Minerals has launched the latest edition in its range of Warman centrifugal pumps, the DWU dewatering pump, to the European market.
The pump is designed to deliver increased efficiency where water needs to be lifted over greater heights – a common requirement in both open and underground mines – and the unit delivers efficient operation at heads of up to 140 m.
Four different sizes are available, with outlet diameters of 75 mm, 125 mm, 150 mm and 200 mm and around 50% of the parts used in the new design are interchangeable with Weir Minerals' popular slurry pump, the Warman WBH, to help clients simplify spare parts ordering and holding.
Weir Minerals' engineers have designed a new, double-volute casing which reduces radial load and is capable of maintaining internal pressures of up to 7,000 kPa, allowing the pumps to be configured in series to deliver even greater head heights.
Steve Sedgwick, the Weir Minerals Europe product manager for mine dewatering, said: "The dewatering system is a crucial part of almost every mining operation around the globe, and we're committed to ensuring that our range of dewatering pumps is broad enough to deliver optimum efficiency, whatever the requirements.