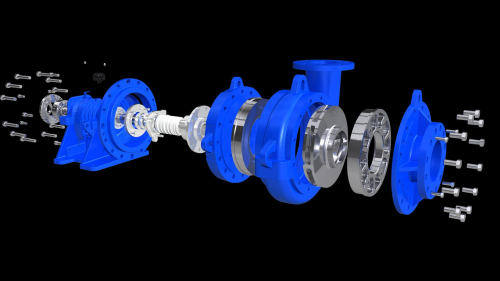 The pontoons will replace the current dewatering system at Dorfner's Hirschau mine near Regensburg. The Hirschau mine produces kaolin, quartz sand and feldspar.
Two systems will be installed, each featuring new plastic floats developed by engineers from Weir Minerals South Africa, along with two Warman DWU high-head dewatering pumps driven by electric motors.
Dorfner already uses Weir Minerals pumps widely for recovery, transportation and milling of its products and has more than 50 Warman units across its operations.
Uwe Bär, project engineer for dewatering at Dorfner, said: "We have selected the system from Weir not only because of the excellent performance track record of the Warman slurry pumps we have used widely in the past, but also because of the availability of a complete integrated pumps and pontoon system which includes all of the necessary operator safety features.
"Systems like this are a common sight in the southern hemisphere at the large open-pit mining operations that are common in South Africa, South America and Australia, but they are less frequently used in European mines. This is a great example of how we are able to call on the expertise of our other Weir Minerals territories to deliver the best possible solution to any challenge we are presented with," said Tony Locke, managing director at Weir Minerals Europe.