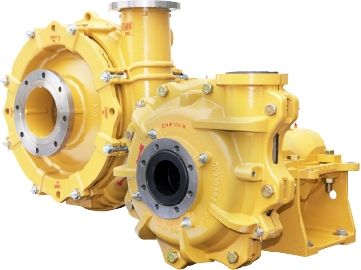 The model EMW pump is designed for full compliance with the ANSI/HI 12.1-12.6-2011 Standard for Class III and IV services.
Configured in both hard iron and elastomer lined versions, standard features include:
State of the art hydraulic designs to maximize efficiency and minimize wear.
Proprietary Maxalloy hard iron metallurgy to optimize the pump's operating time between repairs.
Performance engineered power frame to readily fit existing installations and enhanced with a distortion-free bearing clamp system to maximize bearing life.
A full range of packing, mechanical and dynamic seal options.
Currently, the pumps are available in discharge sizes between 50 mm (2 in) and 200 mm (8 in) with the range expanding to 300 mm (12 in) by the end of 2013. Performance capabilities extend to maximum capacities of 2950 m3/hr (13,000 GPM) and BEP head to 85 m (280 ft).
Wilfley's has more than 95 year history supplying engineered pumps to the mining and associated slurry market industries.