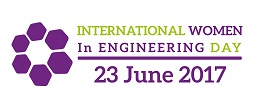 Now in its fourth year, NWED will become International Women in Engineering Day (INWED) in 2017 and take place on 23 June. The day will focus attention on the great careers in engineering and technical roles for girls, and allows the Women's Engineering Society to celebrate the achievements of our outstanding women engineers.
In 2016 the day included over 550 separate events being held, including school events with more than 350 schools across the UK involved in NWED celebrations, and over 1500 downloads of the resource pack from the NWED website.
The Women's Engineering Society's campaign reached over 1 million people on social media via a 'Thunderclap' campaign on Twitter. The official hashtag #nwed2016 received over 15,000 posts on the day, which saw the hashtag trending for around 8 hours on Twitter.
UNESCO patronage endorsed NWED 2016 worldwide and the WES is in the process of obtaining the same patronage for 2017.
International Women in Engineering Day has several early sponsors on board for 2017, including Engineers Ireland's STEPS Programme, Cirrus Logic, Building Engineering Services Association, Royal Academy of Engineering, Colas Limited, Wiley, Boeing, and SSE. Many of its sponsors have offices outside the UK and are planning to hold INWED events across these offices.