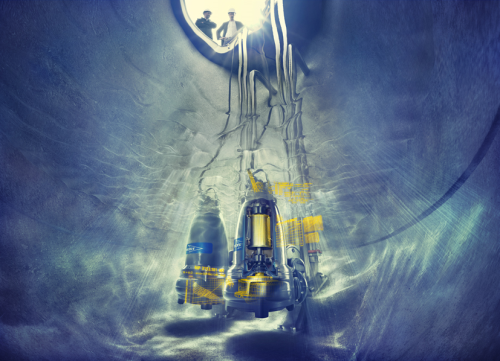 Xylem has won a 2014 Innovative Technology Award from the Water Environment Federation (WEF) for the company's wastewater pumping solution, Flygt Experior. Flygt Experior's clog-resistant design has been successfully field tested and proven to reduce energy consumption by up to 50%, with clog removal maintenance virtually eliminated. Flygt Experior pumps incorporate N-technology hydraulics, premium efficiency motors and intelligent controls in a single package.
Muscle
The muscle of the Flygt Experior is the premium efficiency motor coupled with 'Adaptive N-hydraulics' which further improves the results of the energy-saving, clog-free N-impeller. N-technology is suited for speed regulation as self-cleaning functionality is facilitated independently of rotational speed. Flygt SmartRun controls are pre-programmed with algorithms specifically designed for wastewater systems.
The Adaptive N-impeller moves axially upwards to allow better passage of trash flow; the impeller then immediately returns to its normal operating position in close proximity to the volute insert ring eliminating clogging even under the most challenging conditions.
Extensive field trials
The Experior pumping solution now takes the wastewater industry one giant step further. "Extensive field trials in North America and Europe have proven that Flygt Experior only eliminates major clogging problems but also deliver extended service intervals while significantly reducing energy costs," said Lisa Riles, North America Marketing & Business Development Manager, Transport at Xylem Americas. In Jefferson Parish, LA for instance, four problematic lift stations were retrofitted with one Experior pump each, which completely eliminated clogging problems after startup. Not one instance of pump failure or clogging has occurred. The Experior pumps are coping easily with huge amounts of trash like plastics, rags, baby wipes and straws.