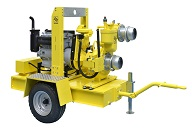 The acquisition of Italian pump manufacturer Varisco SpA by Swedish company Atlas Copco AB in 2015 is the latest move by the company to expand its global pumps business. Founded in 1932, Varisco is based in Padua, near Venice, employs around 135 people and has annual revenues of around € 30 million. Varisco pumps are largely used in dewatering applications and removing other liquids in the construction, mining and oil and gas industries. They are also used in industrial process plants and for flood emergency services. Varisco has joined the Portable Energy division within Atlas Copco's Construction Technique business area.
Massimo Scapolo of Varisco presents new pumps to senior managers and board members of Atlas Copco.
Atlas Copco is increasing its presence in the global pumps business. The company specialises in compressors, vacuum solutions and air treatment systems, construction and mining equipment, power tools and assembly systems. Having acquired Edwards Group in early 2014, the company also added Oerlikon Leybold Vacuum to its Compressor Technique business, which provides industrial compressors, vacuum solutions including pumps, gas and process compressors and expanders, air and gas treatment equipment and air management systems. Varisco joins the Construction Technique business area, which provides construction and demolition tools, portable compressors, pumps and generators, lighting towers, and compaction and paving equipment.
Atlas Copco's Portable Energy division has stated that the pumps business is a focused growth segment and Varisco's product range and customer base was cited as an attractive acquisition. Overall revenues at Atlas Copco in 2015 were SEK 102 million (€ 11,000 million), with Construction Technique accounting for around 15% of this. The Group had just over 43,000 employees in 2015, which has grown from around 31,000 in just five years and a presence in over 180 countries. With close to 40 different brands, the Group has always firmly embraced a multi-brand strategy. Varisco will remain a stand-alone brand within the Atlas Copco Group.
Junior partner
Massimo Scapolo, vice president of Sales and Marketing at Varisco, points out that despite great enthusiasm from all corners, as the junior partner joining a much larger organisation, certain reassurances all round were required to make the transition work successfully. "During the course of the first week, we contacted all of our customers and distributors and assured them that nothing would change," he says. "In particular, we wanted to emphasise that the brand and all the product lines would remain. Varisco still only has a small share of the world market, so there was not going to be a conflict between Atlas Copco's core offering and customers with ours. We also wanted to make the point to our customers that from now on we were able to leverage the resources of Atlas Copco, as well as secure additional investment for our products."
The Portable Energy division targeted the pumps market a few years ago, and on-site electric submersible dewatering pumps as an initial product line. The company's core product line is based on compressed air, where it has a good market share and is an established market leader. The pump sector is significant and growing, with strong demand from the construction, mining and other industries, as well as flood control and municipal applications. Although the dewatering pump business is a competitive market, Atlas Copco believes that it is in a strong position because of its existing customer base with established products. These customers, in industries including construction, mining, utilities, and oil and gas, also all require pumps.
Technology demands for dewatering pumps
Demand for different types of dewatering pumps varies throughout the world. Submersible pumps are generally preferred in Europe, while larger engine-driven pumps have been the norm in North America. However, the trends are changing and Atlas Copco has been seeking to expand its dewatering pump product offering to the international market. In addition, there is increasing demand for lightweight and compact portable dewatering pumps, particularly in the developing world. Efficiency guidelines are also being introduced in Europe that require dewatering pumps to meet performance levels already in place for clean water pumps. Atlas Copco is looking to offer a wide range of pumps and different technologies to meet market demands around the world.
Energy efficiency
In technology terms Massimo Scapolo is keen to emphasise that what Varisco can bring to Atlas Copco is its expertise within the pumps business. "The major current trend in pump technology is efficiency" he adds. "Everything now comes under strict regulations. Both the electric motor and the diesel engine have restrictions to reduce pollution, noise and energy consumption, and the same now applies to pumps. For example, we have improved our six inch pump from an average 55% efficiency level to 78% and this is just the beginning. We have one of the leading laboratories in Europe for research and development on priming pumps, and now with the strength and the support of Atlas in R&D we see even further opportunities to improve pump efficiencies. This really is a win/win situation for us. We have our hydraulic experience and some new ideas, and we can now combine this with the experience of the rest of the group for innovating new products.
Massimo Scapolo, vice president of Sales and Marketing at Varisco.
"In addition, I think that Varisco - as part of the Atlas Copco group - can now attempt to do things that have not been done before. For example, if you look how much compressor technology has changed in the past 30 to 40 years, then there is definitely a good space to be filled by innovation in the pump market in terms of operation, functionality and servicing. Atlas Copco's progression into the pump business and the dewatering market, in particular, is good news for Varisco. The Portable Energy division is committed to expanding in the pump sector and the organisation has a culture of innovation."
The Albatross ZD - a vacuum-prime super-silenced engine-driven pump.
Electrical technology
The adoption of new electrical technology is one area where there are likely to be breakthroughs. "Up to now, the pump market has been very stable, however, it is beginning to change," adds Massimo Scapolo. "Technology that has been developed for other equipment will start to be implemented in pump packages. I think that we will really start to see a new generation of pump packages - and pumps too - that will start to change the outlook of the market. It is just a matter of time and with the team that we have I see a really bright future.
"This can already be seen in the new range of pumps we have developed. Everything we already have available has a rotating assembly, so now we are looking at different dimensions of impellers and carbon components. We have always been trying to see if you can improve performance or reduce power consumption with existing components, but our target now is to go further and to develop some new components and add to the product range. For example, we have succeeded this year to incorporate a twelve inch pump - which is quite big - in a Perkins engine. We now have the capability to run the pump at a fixed speed of 1,500 rpm, which overcomes a lot of problems and pumps 20% more than the existing motor we had. However, the impeller is the same. If you develop and increase the efficiency of each distinct component, the whole package will be much more efficient with lower consumption and better performance. Then perhaps we can work on the materials, as well as other areas."
Massimo Scapolo highlights two new products recently introduced to the market by Varisco that emphasise such areas of innovation and reliability for the pump market. The Albatross is a vacuum-prime super-silenced engine-driven pump. The specially constructed canopy ensures a sound level of only 60 dB (A) and the extra-large doors of the canopy also make servicing simple. Varisco says that the modular design it applies to many of its products ensures extra options can be easily incorporated into the machine.
The new Super Z range of vacuum prime centrifugal pumps comes with a new Simplex separator. Varisco says that the Super Z pump is primed automatically and is capable of drawing significant quantities of air, allowing the priming of a wellpoint system and maintaining it under vacuum; or draining an excavation thoroughly under 'snore' conditions. A typical wellpoint system consists of a series of small diameters wells (known as wellpoints) connected via a header pipe, to the suction side of a suitable wellpoint pump. The pump creates a vacuum in the header pipe, drawing water up out of the ground. The Simplex separator is a high capacity air/water separator, featuring a fully mechanical patented system with automatic condensate recovery, allowing fast priming.
Both machines have large capacity fuel tanks and are designed to offer customers three choices of vacuum pump: rotary vane vacuum pump lubricated with oil recirculation system; oil free diaphragm vacuum pump; and a rotary claw vacuum pump without lubrication. Both models feature a semi-open impeller, with solids handling (up to 3 inches), making them suitable both for drainage and wellpoint applications.
Geographic reach
Varisco's strengths are predominantly in the European market. Seventy five percent of the company's sales are in Europe, and the company operates both a direct sales force, as well as a network of distributors in its industrial markets. However, Varisco has been starting to move into the US market and has a distribution network there. However, like many European manufacturers the company has not found it straightforward. Massimo Scapolo says: "It is difficult because everything is different from Europe - voltages, frequencies, regulations, emissions, connection, piping threads and screws. However, we have succeeded little by little and we now have some large OEM customers there. Indeed we have now sold thousands of units in the USA. We are continuing to develop the US product style demanded by the customer."
The Ecomatic JE from Varisco.
Massimo Scapolo asserts that the service culture within Atlas Copco will also suit Varisco and benefit the group. "Through our people operating in the field, we always start from the customers' perspective," he says. "Before the project gets to the engineer, whenever we start to develop a solution it goes through a thorough process that ensures that the customer focus is paramount. Service is part of the development process. This tells you what is wrong and what you can improve and do better, which might just be access to a component, for example."
Research and development is another area where Massimo Scapolo believes that being part of the Atlas Copco group will benefit all concerned. The Atlas Copco Group is known for investing around 3% of revenues into research and development activities. The Portable Energy division alone has owned manufacturing and/or logistics facilities in all continents of the world and close to 200 research and development engineers within these facilities.
"Varisco already had good forward thinking," he says. "However, there are certainly areas where we can share knowledge and look for synergies in engineering. With the Atlas Copco group behind Varisco, we know that we can be highly focused on energy consumption and pump innovation. We still see a lot of possibilities to move forward in these areas in what up to now has been a quite traditional business – the future for Varisco promises to be very exciting."