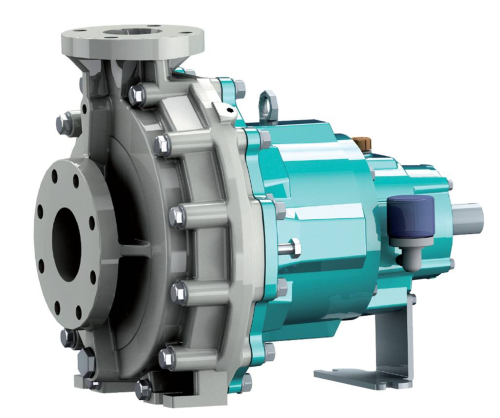 These include the ASTRA range of AODD pumps, which is manufactured with port sizes starting from ¼ in up to 2 in. The internal volume of its diaphragm chamber has been engineered to make it larger than other, similar pumps, with reduced diaphragm strokes with less vibration, noise and wear and tear of its components.
Acting on the air valve, a regulator knob makes it possible to set the flow on the suitable duty point even with high viscosity liquids and liquids with solids in suspension, reducing air consumption and saving energy.
Argal's ASTRA air valve makes the series suitable for applications such as dosing and feeding painting spraying guns.
The pump casing and manifold construction materials are made of polypropylene and E-CTFE, a fluorine polymer with the highest mechanical resistance among all thermoplastic injection moulded materials.The mechanical resistance characteristics of both materials are strengthened with glass and carbon fibres respectively.
The ASTRA metallic range is available in aluminium, 316 stainless steel and food grade stainless steel which complies with USA FDA directives.
Argal also plans to launch its SATURN glass fibre range at Achema which conforms to ANSI/ASME B73.1 regulations. The pump casing is made of FRP (thermosetting resins reinforced with glass fibre), which provide it with a considerable mechanical resistance comparable to metal alloy. The resin basic formula (epoxy vinyl ester) gives to the pump casing a resistance to all corrosive and abrasive acids.
The pump is suitable for applications such as seawater (sanitization treatments, desalination), domestic & industrial wastewater treatments, fume scrubbers, and all industrial plants handling chemical liquids.
SATURN series comes in two versions: the ZGS normalized (long-coupled) which includes a ball bearing housing and shaft gives to the pump a better strength to the coupling by flexible coupling to the electric motor for pumping the most difficult liquids for a continuous use and the ZMS close-coupled version which can be supplied up to 37 kW motor. The pump coupling flange to the electric motor has been engineered with a thrust ball bearing which supports the radial burden and reduces the shaft's jolts and consequently the burden on the electric motor ball bearings.