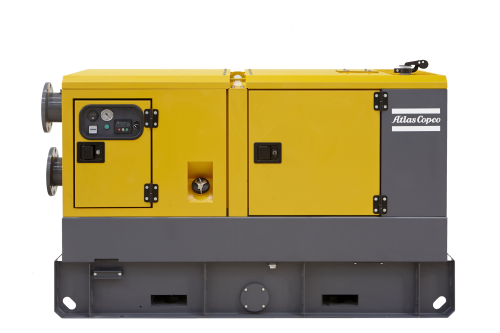 The 4, 6 and 8 in dry-prime units, the PAS 4, PAS 6 and PAS 8, have been designed to deliver high performance and operating efficiency for the rental and dewatering markets.
Atlas Copco already offers electric, pneumatic and hydraulic submersible pumps. The PAS diesel-driven pumps extend Atlas Copco's dewatering pump solutions for tough environments or where power is not available. The PAS dry-prime pumps are best suited for transporting or lifting water with abrasive solids in suspension. Applications include dewatering at construction and mine sites, floodwater or stream diversions and sewage bypass for industries and municipals.
Uninterrupted operation
The PAS 4, PAS 6 and PAS 8 have an operating flow range of 50 to 600 m3 per hour with a maximum head of up to 37 m. Their solids handling capacity reaches up to 76 mm. An environmentally friendly, oil-free vacuum pump priming system, which automatically removes air from the water, aims to ensure uninterrupted, unsupervised operation.
The unit comes with a Kubota engine, designed to deliver high performance at full load operation. The large cooler capacity is for continuous and safe operation even at high ambient conditions. The Atlas Copco PAS come with a skid fuel tank that allows the pumps to run for days without refueling. In addition, the units' fuel-efficient performance lowers running costs.